POL, A long-term investment with immediate benefits
The POL technology, Passive Optical LAN, also known as LAN optique passif in French, combines the benefits of optical fiber with a revolutionary architecture that significantly reduces operational costs. Passive Optical LAN relies on the use of passive components, thus eliminating the need for energy-intensive electronic devices such as switches, cooling systems, and repeaters.
The benefits are impressive:
Speeds of up to 10 Gbit/s
Operational cost reduction of up to 75%
Energy consumption reduction of up to 60%
Freeing up to 75% of space in equipment rooms
Fiber and splitter lifespans of up to 40 years.
All of this with a noticeable improvement in network security.
This revolutionary technology offers a long-term investment with tangible benefits from the moment of deployment.
What is POL ?
The Passive Optical LAN is a technology based on optical fiber.
The growth of businesses comes with new needs: the use of SaaS software for increased responsiveness, the deployment of the Internet of Things (IoT) for better control, the integration of Artificial Intelligence for more efficient data utilization. This growth results in an average annual increase of 20% to 40% in the volume of data flowing through networks.
Where copper networks reach their limits, optical fiber increases data rates, thus significantly improving user satisfaction over time. POL relies on GPON (Gigabit-Capable Passive Optical Network) standards, which are constantly evolving to anticipate this growth throughout the coming decades.
With POL, you invest in a technology that evolves with your needs, ensuring long-term user satisfaction.
What does Passive Optical LAN technology consist of ?


The flexibility of POL makes it easy to adapt the network architecture to the needs and specificities of each environment (budget, performance, WiFi coverage, security…).
What are the advantages of POL?
The Passive Optical LAN offers all the inherent advantages of optical fiber :
Data rates of up to 10 Gbit/s.
Wiring reach extending up to 20 km.
Longer component lifecycles.
Furthermore, the benefits of passive components are manifold :
Electrical consumption reduction of up to 60%.
The repurposing of equipment rooms into useful spaces.
Cable clutter reduction of up to -80%.
In summary, this technology represents a modern and scalable alternative to traditional wired local networks. It enables significant operational cost savings while fully harnessing the capacity of fiber networks provided by telecommunications operators.
Passive Optical LAN enables financial savings throughout the entire lifecycle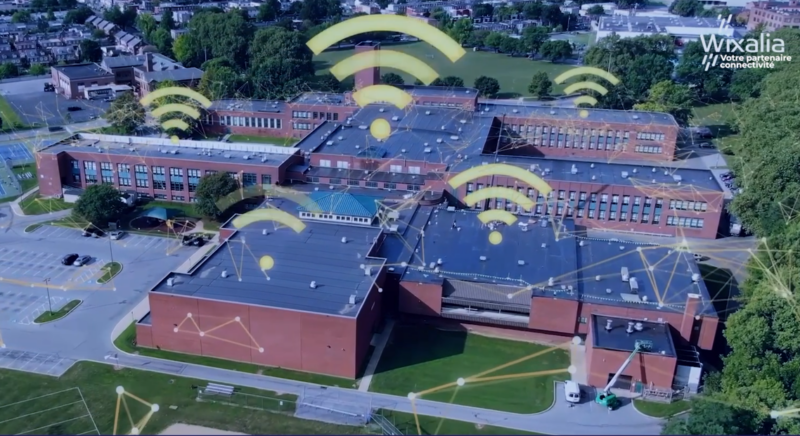 Passive Optical LAN allows for savings on both investment and operational costs, while providing the assurance of long-term profitability. The Wixalia teams are here to assist you in assessing potential savings for your project and to offer alternatives if needed.
The use of optical fiber over long distances eliminates the need for repeaters. Furthermore, the adoption of passive components instead of switches eliminates the need for cooling systems. These factors significantly contribute to a reduction in power consumption, with potential savings of up to 60%.
These advantages also have an impact on network management and operation, with fewer components to monitor and maintain. Large-scale project deployments have demonstrated savings of up to 75% on the total operational cost, in addition to reducing the initial project budget.
POL, a network solution with wide-ranging benefits
Maximized profitability of your real estate investments
The use of passive splitters significantly reduces the space required for network components, freeing up to 75% of your equipment room's area. These newly available spaces can be repurposed for more productive uses.
Furthermore, this reduction in cable clutter can reach up to 80%, facilitating seamless integration into your infrastructure.
Finally, the outstanding performance of POL contributes to the overall value of your building. By being more energy-efficient and flexible to meet future needs, these networks represent a real investment, enhancing the profitability of your real estate investments.
A network aligned with your SDSI strategy
As an independent integrator, Wixalia offers you tailored architectures and technology providers that are perfectly aligned with your Information System (IS) development strategy and objectives.
Our comprehensive range of expertise covers the design and deployment of your network, from optimizing WiFi coverage to efficient deployment by our staging teams. We also integrate all the necessary components to ensure the optimal security of your network.
With Wixalia, your network is designed in harmony with your SDSI strategy, ensuring a tailor-made solution that meets your specific needs.
Enhanced security
The optical fiber technology of the POL network provides significantly higher security compared to traditional networks. Intercepting data in an optical fiber network is much more challenging, and it is not vulnerable to electromagnetic interference.
Furthermore, all data benefits from AES128 encryption between the network core and ONT devices. Your security is thus strengthened at all levels, ensuring the confidentiality and integrity of your data.
Simplified Management and Operation
By consolidating your network infrastructure onto a single optical fiber-based platform, you significantly simplify the management and maintenance of your network. With fewer devices to administer (switches being replaced by passive optical couplers), reliability is enhanced, and network management is centralized on a single platform.
Daily operations become more efficient, resulting in a substantial reduction in operational costs.
With Wixalia, you benefit from a comprehensive solution for the operation and maintenance of your network. We pool license and expertise costs to ensure optimal performance. Your network is in good hands, simplifying your daily operations.
You want to entrust us with a project, obtain more information on our offers, or meet us?