Networks, the cornerstone of productivity
At the heart of any digitalized work environment, network infrastructure serves as a real backbone for the organization. Responsible for smooth-running operations, it is a highly strategic component, affecting the results of our partner companies and healthcare facilities.
Only a trusted, scalable IT framework can respond to the issues that come with digitalization, like increased connection speeds, transfers of software to the cloud, and increasingly complex computer protocols and standards, not to mention new trends like digital workplaces.
Telephony & high-speed infrastructure: Cross-cutting expertise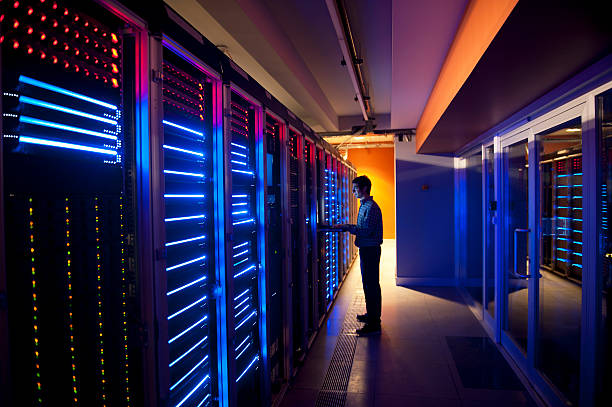 As a specialist in needs analyses and the design of custom solutions, Wixalia can help you upgrade your existing set-up or work with you to identify the most appropriate solution in view of your expectations and constraints.
Whether your project involves a rollout to one site or more, in France or abroad, we will draw from more than 12 years of experience to create, implement and maintain the connectivity that you need.
We will offer the best network type for your needs – LAN, WAN, WLAN or SD-WAN, from traditional local networks to hosting your data on the cloud, and in any case, compatible with virtualized resources.
Landline, cellular and IP carriers.
DECT, IP-DEC, VoWiFi and cellular technologies.
Telephony and nurse call systems play a crucial role in healthcare activities, where each missed patient call can have serious consequences. Moreover, healthcare facilities face the constant evolution of these devices' technology, requiring regular updates and managing the obsolescence of existing systems.
Wixalia's teams are here to assist you in selecting a new nurse call solution or updating your equipment.
Green WiFi® by Wixalia: Towards an eco-friendly network infrastructure
Synelience Group has created the Green WiFi® brand to combine the challenges of Green IT with the technological reality represented by WiFi.
The concept of "Green IT" already encompasses a set of technologies aimed at reducing the environmental footprint of the digital world. However, Synelience Group and Wixalia wanted to go beyond a mere theoretical ambition and demonstrate a tangible reality. That's why we have adopted a committed approach by considering WiFi as a structurally eco-responsible component of IT infrastructures.
Wixalia's Green WiFi offerings allow you to consider ecology, energy savings, and network performance from architecture to energy consumption.
Their advantages include :
Reduction in energy consumption
Network sharing
Prolonged lifecycle of your investments
Services
From auditing to outsourcing to deployment, Wixalia has developed a portfolio of services that meet each of the challenges of digital transformation:
Audits & consulting

Architecture, mockups & PoCs

Training & skills transfers

Rollout & maintenance
Data center solutions

Storage, hosting & data backup

Cloud Intelligence

BC/DR
Workspace virtualization

VPN, SSL, Load Balancer

Fixed and mobile Telecom Operator services (registered operator in France)
You want to entrust us with a project, obtain more information on our offers, or meet us?