The possibilities offered by smart buildings
While walls do not yet have ears, they do have sensors. As the digital revolution transforms industries, connected objects (IoT) are now at the very heart of architecture and design, bringing buildings to life. Whether you have an office, an apartment building, a healthcare facility or a warehouse, any type of building can be equipped with an increasing variety of innovative digital tools.
A smart building's main strength lies in its sensors, which allow it to provide important performance indicators – temperature, humidity, the presence of people, sound levels – as well as perform actions like adjusting lighting or heating. It is also possible to "configure" your premises based on external data like weather or brightness.
An IoT expert in the fields of healthcare, logistics and retail, Wixalia will help you to identify and deploy the smart building solutions best suited to your specifications and material constraints.
Wixalia's smart building expertise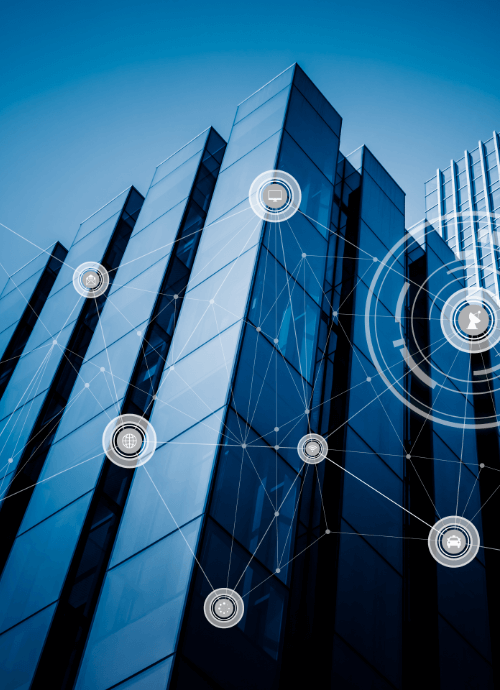 Whatever your project – connecting commercial, residential or industrial buildings – we work in synergy with your teams from the very beginning. Our cross-disciplinary expertise in IT integration means we deliver services without compromise:
Smart buildings: benefits & advantages
Control of energy consumption
Only use the resources your employees need while creating optimal working conditions by mapping energy-intensive areas and areas of wastage.
Interoperability & equipment dialogue
Make it easier to maintain equipment (e.g. elevators) by detecting wear and automating processes to reduce the number of service calls.
Supervision & intelligent data monitoring
Closely monitor and analyze what is happening on your premises: maintenance, traffic, daily activities (e.g. cleaning, waste management), etc.
Use cases
Smart buildings for energy efficiency
Case 1
Setting up an automation ecosystem in a nursing home
As part of its energy transition project, a 50-room nursing home wanted to set up an automation ecosystem to use energy more efficiently.
Issues
Energy efficiency and resident comfort:
Room-by-room heating management
Automated and centralized blackout management (roller shutters and venetian blinds)
Integrating IoT coverage into the existing WiFi infrastructure
Providing a stand-alone monitoring service
Solution description
Selection of a multi-protocol, scalable monitoring solution
compatible with a low-power wireless protocol and the existing WiFi infrastructure
Integration of the low-power wireless protocol into the WiFi infrastructure
to allow data, voice and IoT coverage of the site
Installation of low-power wireless protocol equipment in the rooms
(thermostatic heads, temperature sensors, window opening detectors, roller shutter management modules)
Installation of low-power wireless protocol equipment in the communal areas
(roller shutters and venetian blinds)
Configuration of automation as needed
(opening and closing of shutters/blinds at sunset and sunrise, programmable temperature control, window opening detection, unoccupied room management, etc.)
Benefits
Building automation reduces energy consumption and operating costs.
An energy-efficient low-power wireless protocol
Wireless and battery-free sensor networks
Self-powered devices eliminate the need to replace batteries, reducing maintenance costs
A flexible, scalable solution
Option to include additional features and devices (e.g. air quality analysis, air conditioning, lighting management, access control)
Configuration of scenarios and alerts
Case 2
Rollout of an energy-efficient IT network
A prominent international school wants to renovate its main building and equip it with an easily manageable, reliable and environmentally friendly network in line with its 21st-century campus project.
Issues
Choosing a sustainable and scalable network solution that addresses the issues of energy efficiency and digitalization of the education sector.
Solution description
Simplified network architecture

Passive optical network (PON)

High-performance equipment :
WiFi 6 – Very high-speed broadband – Multiservice box
Single management platform
for smart operation and maintenance
Benefits
Energy efficiency of fiber (compared to copper)
An 80% decrease in electricity use (2 watts vs. 10 watts per user)
400 x coverage (25 miles vs. 328 feet)
4 x lifecycle (30 years vs. 8 years)
An eco-friendly solution
80% less space needed for equipment rooms and cables
30% reduction in network-related energy consumption
A very high-speed solution
A tailored solution to digitalize practices and promote digital innovation in the education sector
WiFi network performance increased by 50% with the management platform
You want to entrust us with a project, obtain more information on our offers, or meet us?