A smart, connected air purifier
More than just a purifier, Aura is a complete air treatment and management solution that offers a relevant response to indoor air pollution problems.
Connected via WiFi, Aura monitors and improves air quality in real time by capturing and eliminating up to 99.9% of viruses, bacteria, VOCs and allergens.
These plug-and-play purifiers are very easy to install.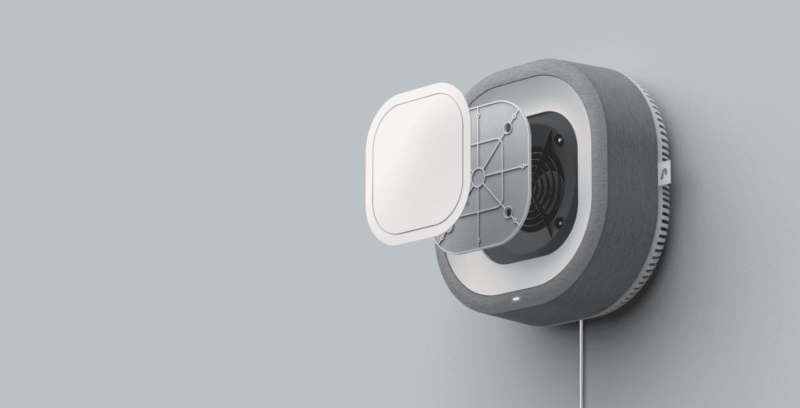 Discover Aura
Main features of the purifier
Pollution detection
Aura uses a set of smart sensors to detect air quality inside and outside.
Inside: smoke, CO, CO2, VOCs, PM 2.5, PM 10, temperature, humidity.
Outside: CO, NOX, NO, NO2, O3 (ozone), allergens, VOCs, PM 2.5, PM 10, temperature, humidity, weather data and forecasting.
Monitoring
Air quality is monitored in real time and the system gives you relevant guidance and recommendations.
Application: take full control of your indoor air from your mobile phone with the app available from Play Store.
Customized air treatment
Aura Air constantly adjusts the way it operates for optimal performance. In addition, its unique algorithm lets you control, define and modify how the air is treated.
Adjust your purifier's features to meet the specific needs of your environment and its occupants.
Promote energy efficiency by distributing fresh air based on real-time CO2 measurements.
Treat the air based on whether there are people present in the room.
Step purification
Filters the largest particles: dust, pollen, insects, animal hair.
Our patented Ray Filter consists of 3 unique antibacterial layers (a HEPA filter, an activated carbon filter and copper fabric) that target fine particles (PM 2.5 and 10), germs, odors, bacteria, viruses, fungi and mold spores.
It neutralizes bacteria, viruses and parasites by targeting cell membrane proteins.
By releasing positive and negative ions – as found in nature – this technology purifies and refreshes indoor air, removing harmful pollutants.
Aura uses smart sensors to detect different particles inside and outside and to constantly monitor changes in temperature and other air quality factors.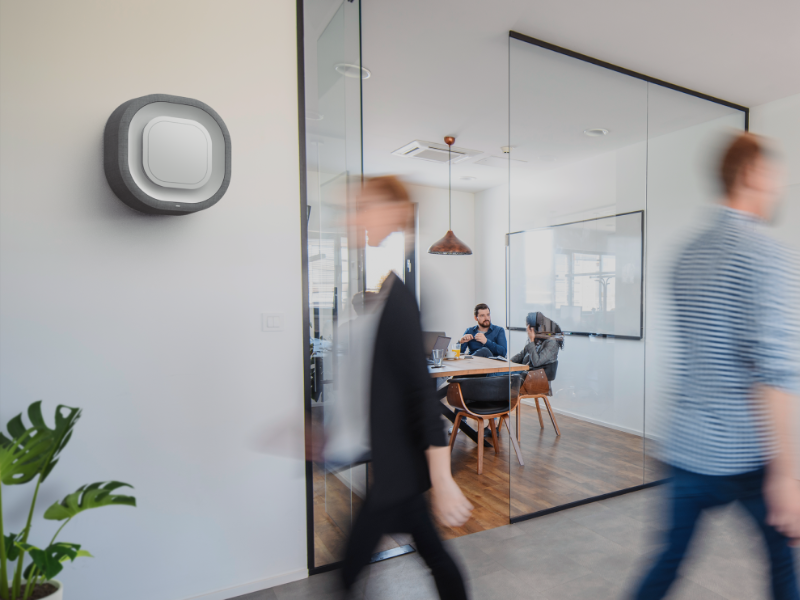 The Aura Business platform
Specially designed for large facilities, the Aura Business control platform will take good care of your company's air quality.
Driven by AI, our unique algorithm allows you to control hundreds of devices at any given time. The Aura platform works autonomously, but can also be integrated into your building management system (BMS). Receive real-time analytics via an open and intuitive API platform.
With the Aura platform, you can easily monitor all your devices from a single interface: unit positioning, filter cleanliness, etc. You are in total control of your indoor air quality standards. Set it up to operate and treat the air to best suit your environment and save energy resources and money.
Let your customers and users know that your air is pure – and show them! They can access the air data in real time using a QR code.
Certified results
Aura captures and eliminates 99.9% of viruses, bacteria, VOCs and allergens – results that also apply to SARS-CoV-2.
CE and FCC certified, Aura is medically approved by the WELL Building Standard for human health and wellbeing.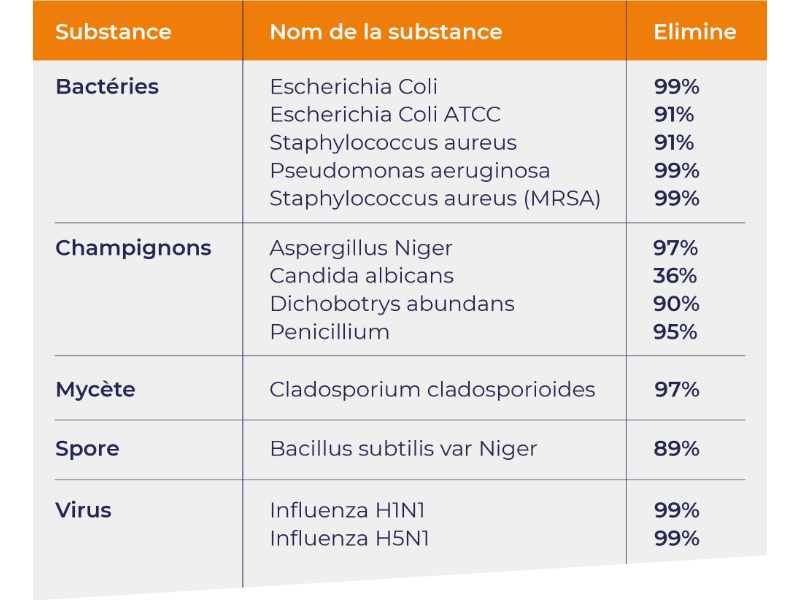 Technical features
Voltage: 110-240V
Connectivity: WiFi
Size: 14.8″ × 14.8″ × 6″
Weight: 12 lb
Average consumption: 24W
Wall or ceiling mounted
Electrical appliance
Working area: approx. 592 sq. ft
5 air changes per hour
Ray Filter: should be changed every 6 months
Additional services for large-scale rollouts
An easy-to-install plug & play solution, Aura Air has minimal installation prerequisites: an electrical outlet to plug in the purifier and a WiFi connection to connect it to the app.
However, you can take advantage of our expertise to make it easier for you to implement and operate your purifiers in a multisite environment:
Complex installations

WiFi network upgrades

Device networking and security
Filter maintenance and management

Full equipment monitoring service
You want to entrust us with a project, obtain more information on our offers, or meet us?